Calling All Artists and Off-Road Enthusiasts Alike
Are you an artist looking to get your work out there? Or, an off-road enthusiast with a creative side? Maybe you're both, and if so, Southern Off-Road Specialists has an opportunity for you!
With the move to our new facility in downtown Cumming, GA moving closer and the renovation of the new building entering the final stages, we are looking for artwork to display in our showroom. This artwork will serve multiple purposes – to tell our story, to create an exciting environment for all who enter our showroom, and to serve as an interaction point between our sales staff and our customers. Rather than try and design this ourselves or sub-contract it out to someone who doesn't know our story, we've decided to open the floor up to the people we value most – our customers. From now until September 15th, enter your artwork for a chance to be the center piece of our showroom. If a submission is chosen to be used in our showroom, the selected artist will receive $1000 in cash or store credit!
*rendering of new showroom*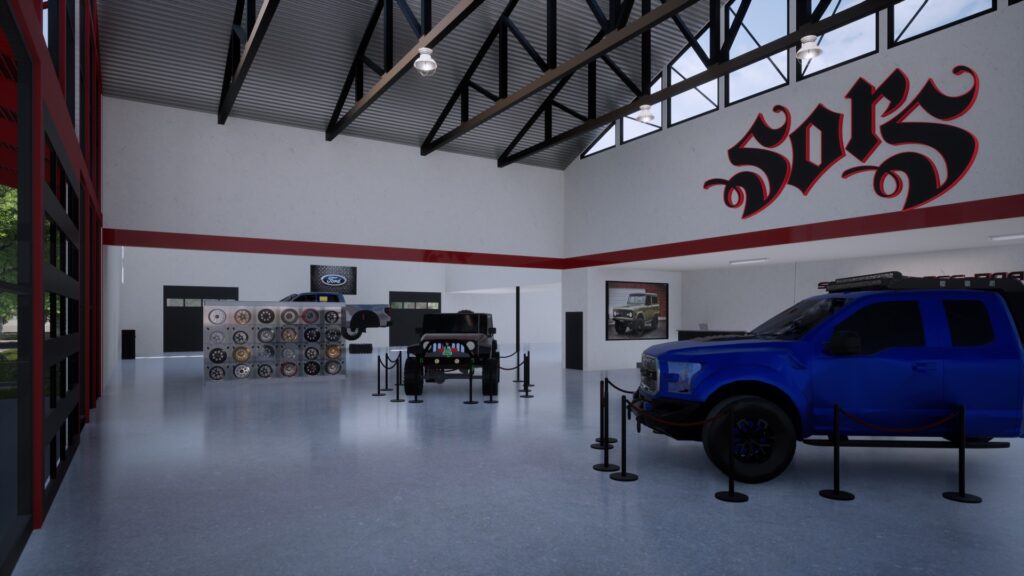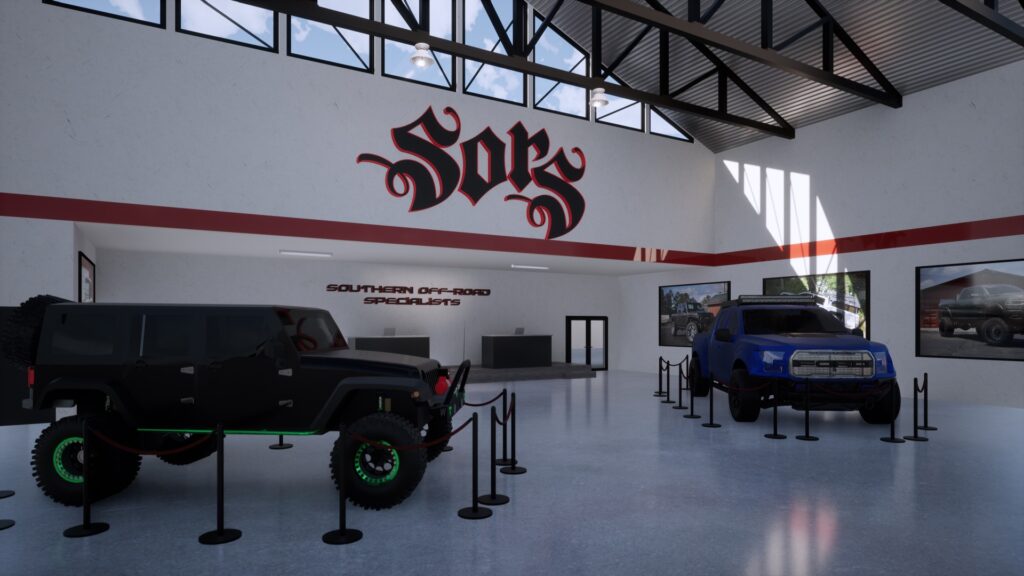 So exactly what kind of artwork are we looking for? Our new showroom will have a 21′ x 60′ area of wall space behind the sales counter that we would like to fill with artwork. We are looking for ONE, cohesive piece of artwork to occupy this area and tell our story. This will be printed on vinyl, so we'll need the artwork in a high-resolution, digital file. Here's the exact requirements
Artwork must be scalable to 21′ x 60′ and submitted in a high-res digital file format
Artwork incorporates the full business name (Southern Off-Road Specialists) as a top/center focal point
Should be on-brand for the business and incorporate elements of what we do and where we come from (think trucks & Jeeps, off-roading, mountains, the north Georgia area, important local landmarks/places/trails, Forsyth county, etc.)
Must be creative! We know we have some bright minds in our customer base, show us your best!
T0 submit, simply leave your name, email and either a Google Drive or Dropbox link to your artwork below. Good luck! (Note, PLEASE ensure the link to your artwork is public/viewable by all before submitting)